The Benefits and Disadvantages of Latex Gloves
Many healthcare professionals prefer to use latex gloves for the protection they provide against body fluids, viruses, and bacteria. Latex gloves can be powdered or powder free, and are a highly effective chemical barrier. Disposable latex gloves are suitable for a wide range of applications because of their excellent elasticity and resistance to many chemicals. They also offer good protection against various toxins, such as anti-microbials, lubricants, and solvents.
These gloves are available in powder and liquid form, which are often used in foodservice environments. They don't leave behind powder residue and are easier to put on. Powdered latex gloves are not practical for all applications, and new types of gloves are just as convenient. Latex gloves made of nitrile are a great alternative, as they are thin and provide excellent tactile sensitivity. They are environmentally friendly, too, as they do not cause allergic reactions.
The most common concern associated with latex gloves is allergic reactions. If a worker is susceptible to latex allergy, it is recommended to use low-protein gloves. These gloves can prevent allergic reactions and provide the same level of elasticity, touch sensitivity, and dexterity as their standard counterparts. However, some people are allergic to latex, and you should consult your physician before using latex gloves for any reason. You may need to wear a latex glove for a few hours to avoid a severe allergic reaction.
Another benefit of latex gloves is that they are flexible and fit close to the skin. They can increase range of motion and dexterity, helping you complete tasks faster. Despite this benefit, latex gloves are unstable around certain chemicals, which can cause them to lose their elasticity. In these industries, latex gloves are not the best choice for protective gloves. You should also check whether you are exposed to chemicals before using latex gloves.
Vinyl gloves are also an excellent choice for workers who are allergic to latex. They are inexpensive and widely available, so you can find them at any store. They are not as durable as latex gloves, but they are less expensive and provide similar levels of protection. Nevertheless, they are not as effective for certain jobs. In the case of laboratory or surgical operations, latex gloves are highly recommended. In some cases, however, they may not be suitable for some tasks.
The most effective hospitals stock all of the supplies they need at all times. Latex gloves can be used by a wide range of medical professionals, and they are readily available in powdered and powder-free varieties. They are also available in bulk packages for large hospitals. Latex gloves can be ordered online, either in single packs or in bulk quantities. Once you've decided on latex gloves, the next step is choosing them.
There are many reasons to choose latex gloves over nitrile gloves.
Nitrile gloves offer superior strength and durability, while latex gloves offer flexibility and comfort. Nitrile gloves provide better protection against solvent chemicals and punctures and are the standard in industries that demand heavy-duty performance.
If you have latex allergies, you can opt for the nitrile gloves. If latex is not an option for you, disposable gloves are the best choice.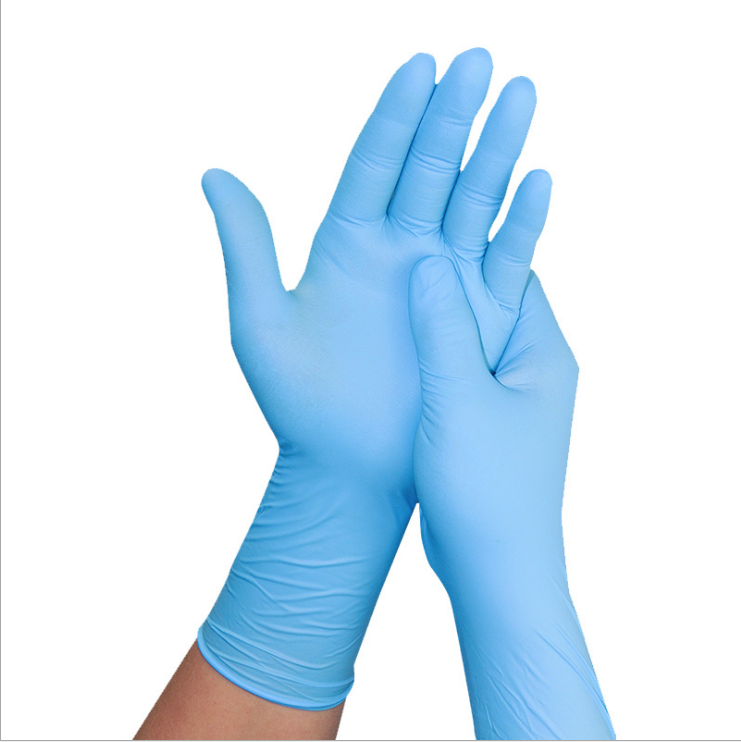 Disposable Blue Examination Nitrile Gloves
    Nitrile gloves can be divided into non-slip on palm surface, non-slip on hand tip surface and non-slip on whole surface. Generally, there is no powder. Nitrile gloves do not contain protein, amino compounds and other harmful substances, rarely produce allergies. Nitrile gloves are degradable, easy to handle and environmentally friendly.