A Disposable Vaccine Syringe is a tool that is used to deliver vaccines to children.
It is designed to reduce the risk of vaccine contamination and to avoid the risk of human error during administration. The syringe is available in different sizes and can be used for different vaccines. Some syringes are prefilled while others are not. The syringe should be disposed of after the day it is used.
The WHO recommends the use of auto-disable syringes to reduce the risk of healthcare-associated infections. Single-use syringes are also important for proper sharps disposal. Disposable syringes must meet ISO standards for safety and fitness for use.
The largest manufacturers of syringes are ramping up production in anticipation of increased demand. In addition to boosting production, these companies are working to meet the growing demand for vaccines. They are partnering with governments to expedite shipments of the needed supplies. A leading indicator of a potential shortage is the number of medical items that have caps placed on orders by distributors and suppliers.
As vaccines come in large quantities, it is important to ensure that these products are safe and effective for vaccination. The Measles and Rubella Initiative was launched in 2001, involving the United Nations Foundation, the U.S. Centers for Disease Control and Prevention, the World Health Organization, UNICEF, and other agencies. The initiative required manufacturers to invest in safe injection equipment, as well as to ensure their products are safe.
The WHO says that unsafe vaccine injections have caused the spread of diseases. In one recent study, up to 1.7 million people contracted hepatitis B, 315 000 people contracted hepatitis C, and 33,800 people contracted HIV from unsafe injections. The AD syringe is safe and affordable, which makes it the ideal choice for administering vaccines.
AD syringes are designed to prevent reuse by locking after single use. They also reduce the risk of infections from contaminated needles. UNICEF routinely purchases AD syringes for vaccination of children around the world. Up until recently, children were vaccinated using reusable syringes, which were not only unsafe but also exposed them to potentially harmful bloodborne diseases. In some cases, used syringes were even resold as toys.
Disposable Vaccine Syringes are a great improvement over conventional syringes. They eliminate the need for sterile needles, reduce medical waste, and reduce administrative time. They also eliminate the need for sharps containers and allow for more consistent delivery of vaccine drugs.
Currently, UNICEF needs about 800 million syringes per year for routine childhood vaccinations. For COVID-19 vaccine alone, 441 million syringes are required. The logistics involved in bringing syringes to low-income countries are challenging. Last year, UNICEF and partners boosted capacity, but that was not enough to meet the surge in demand.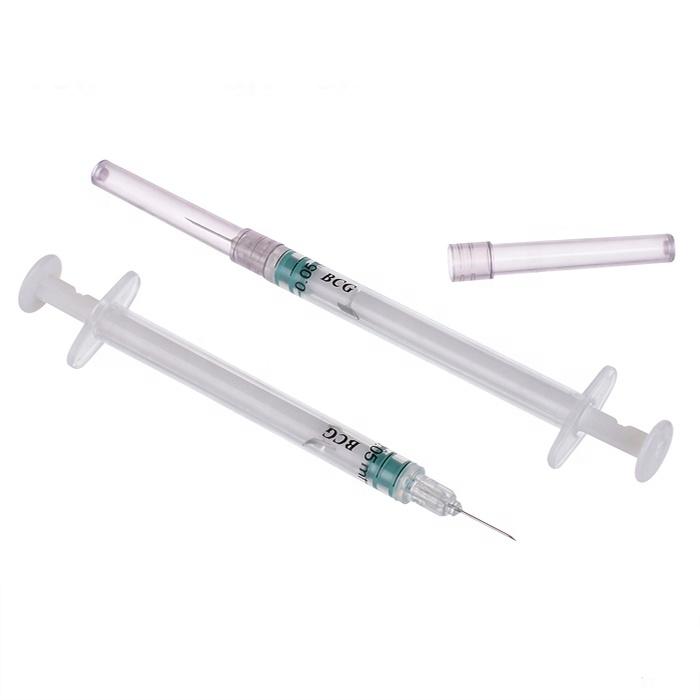 1、This pack contains: 20pack 2cc capacity With 23G .
---
2、disposable sterile with plastic packaging
---
3、Minimum Tick marks : 0.1ml / maximum capacity:
1ml 2ml 5ml 10ml 20ml 50ml